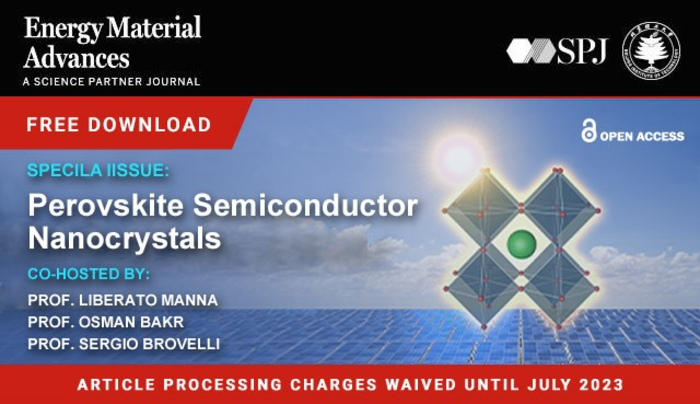 The future of energy might be tiny — very tiny. Measuring at roughly 1/10, 000 the width of a human hair, semiconductor nanocrystals emit tunable light and can exhibit quantum features.
As continued climate change necessitates more sustainable and more efficient energy, researchers are diving deeper into understanding and exploiting the unique properties of nanocrystals, including how to synthesize variations to overcome limitations.
To highlight recent advances made with regard to nanocrystals exhibiting a specific crystalline structure known as perovskite, Energy Material Advances, a Science Partner Journal, published its first special issue on February 2022. The issue features six research articles and two review papers, authored by scientists from nine countries.
"The world is facing the grand challenges of balancing economic growth and environmental protection, urging the development of sustainable energy sources and more efficient energy consumption," said journal editor Hongbo Li, professor in the Beijing Key Laboratory of Construction-Tailorable Advanced Functional, Materials and Green Applications, Experimental Center of Advanced Materials School of Materials Science and Engineering, Beijing Institute of Technology. "To tackle these challenges, new materials are in great demand. In the past few years, perovskite and perovskite analogues have emerged as important nanocrystal materials for their unique features, such as defect tolerance, emission color purity, tunable band gap and intriguing charge exciton transport behavior."
Perovskite nanocrystals typically comprise an ABX3 structure, where A and B are positively charged ions and X is negatively charged and bonds to both A and B. Named for a natural mineral exhibiting the same structure, perovskite nanocrystals are bright emitters and relatively easy to synthesize. Such nanocrystals have been extensively studied and applied to artificial lighting, displays, solar cells, photodetectors and even biomedical areas, according to Li.
"Significant efforts have been devoted to the investigation of perovskite materials with novel compositions and structure for a variety of optoelectronic devices," Li said. "In light of the impact of perovskite nanocrystals and their rapidly growing community, the special issue focuses on emerging topics in this area including, but not limited to, perovskite and perovskite analogue semiconductor nanocrystals with novel structures and properties, and their application in light-emitting diodes, solar cells and radiation detectors."
The issue consists of two review articles and six research papers, focusing on the most recent developments in synthesizing and tuning perovskite nanocrystals and other emerging nanocrystal materials. The topics covered range from fundamental understanding of doping, synthesis and spectroscopy to the application of nanocrystals in solar cells and light-emitting diodes, or LEDs.
"Overall, this special issue reviews the exciting progress in various fields of nanocrystals and presents the frontier of nanocrystal-related research from many leading groups around the world," Li said. "We are very much grateful to all the authors for their contributions to this exciting issue. We also thank all reviewers and the editorial board for organizing this special issue."
Guest editors on the special issue include Liberato Mann, Nanochemistry Department, Istituto Italiano di Tecnologia, Italy; Osman M. Bakr, Advanced Membranes and Porous Materials Center, KAUST Catalysis Center, Division of Phsyical Science and Engineering, King Abdullah University of Science and Technology, Saudi Arabia; and Sergio Brovelli, Dipartimento di Scienza dei Materiali, Università degli Studi di Milano-Bicocca, Italy.
Table of Contents
Editorial: Perovskite Semiconductor Nanocrystals
Recent Advances and Opportunities of Lead-Free Perovskite Nanocrystal for Optoelectronic Application
Air-Resistant Lead Halide Perovskite Nanocrystals Embedded into Polyimide of Intrinsic Microporosity
Pushing the Band Gap Envelope of Quasi-Type II Heterostructured Nanocrystals to Blue: ZnSe/ZnSe1-XTeX/ZnSe Spherical Quantum Wells
Lattice Doping of Lanthanide Ions in Cs2AgInCl6 Nanocrystals Enabling Tunable Photoluminescence
Intrinsic and Extrinsic Exciton Recombination Pathways in AgInS2 Colloidal Nanocrystals
Light-Emitting Diodes Based on Two-Dimensional Nanoplatelets
Graphene Quantum Dots Open Up New Prospects for Interfacial Modifying in Graphene/Silicon Schottky Barrier Solar Cell
###
About Prof. Hongbo Li
Hongbo Li, is a Professor at Beijing Institute of Technology and Yong Editor of the Energy Material Advances—a Science Partner Journal. He received his Ph.D. from Technical Institute of Physics and Chemistry, Chinese Academy of Sciences in 2010. His science career was started as a postdoctoral researcher at the Italian Institute of Technology from 2010–2013 and then at the Las Alamos National Laboratory from 2014–2017. In 2018, he moved back to China as full professor at the School of Materials Science & Engineering, Beijing Institute of Technology, where as the team leader he established his independent research group and focused on the liquid chemical synthesis of inorganic semiconductor nanocrystals and their photoelectric devices. The quality of his research is manifested by over 60 publications in high-impact factor journals (Nature Photonics, Nature Energy, Matter, Nano letters, etc), one book chapters. He served as the reviewers for many Journals that are mainly operated by ACS and RSC.
---
Journal
Energy Material Advances
Method of Research
Experimental study
Subject of Research
Not applicable
COI Statement
The authors declare that there are no conflicts of interest regarding the publication of the articles.
Disclaimer: AAAS and EurekAlert! are not responsible for the accuracy of news releases posted to EurekAlert! by contributing institutions or for the use of any information through the EurekAlert system.